A Glance at the New 2022 Ram 1500
Do you want to upgrade to a better ride in El Paso, Texas? If so, take a look at the 2022 Ram 1500 we have at Sunland Park CDJR! Our dealership is one of the first ones in the area that have the latest model, and it would be our pleasure to get you behind the wheel of a new Ram 1500 this year. Learn more about this amazing truck, and swing by our dealership to test drive one today!
A Variety of Engines
If you visit Sunland Park CDJR for your 2022 Ram 1500, you can choose from five separate amazing engines. You can decide what gas mileage, power, torque, and acceleration you want! If you aren't sure exactly what engine you want, our team can help you! We will review your options, talk about the benefits of each one, and let you select the right one for your needs.
A Stunning, Redesigned Exterior
In addition, you will look absolutely stunning behind the 2022 Ram 1500's wheel! The exterior can take a beating, so even if you plan on going off-road, it should stand up to the stress!
There are a number of new exterior features you will enjoy with the 2022 model. For example, this year's model has a multifunctional tailgate that is perfect for all of your needs. You can haul heavy equipment, tailgate at the next football game, and really enjoy everything this vehicle has to offer.
You can also keep all of your equipment organized with the new RamBox Cargo Management System! You don't have to worry about losing track of your equipment, and you don't have to worry about it getting damaged if it rolls around in the truck bed.
A Plush Interior
Of course, you also get to enjoy the new, luxurious, plush interior. You don't have to worry about your leg space, and you can forget about low back pain! You can even choose leather seats that will bring it all together. With numerous accents, adjustable legroom, and the latest technological features, the 2022 Ram 1500 will have everything you could ever desire, and we can review the packages with you. At Sunland Park CDJR, we are impressed by the interior of the Ram 1500, and we are sure you will be impressed as well.
Speaking of technological features, you get access to the latest in audio entertainment, a high-definition console, and the most advanced navigational features to ensure you always know where you are going. This is a truck that leaves nothing to be desired, and we are confident that it will meet your needs as well. You can control the temperature, listen to your favorite music, and really enjoy the ride.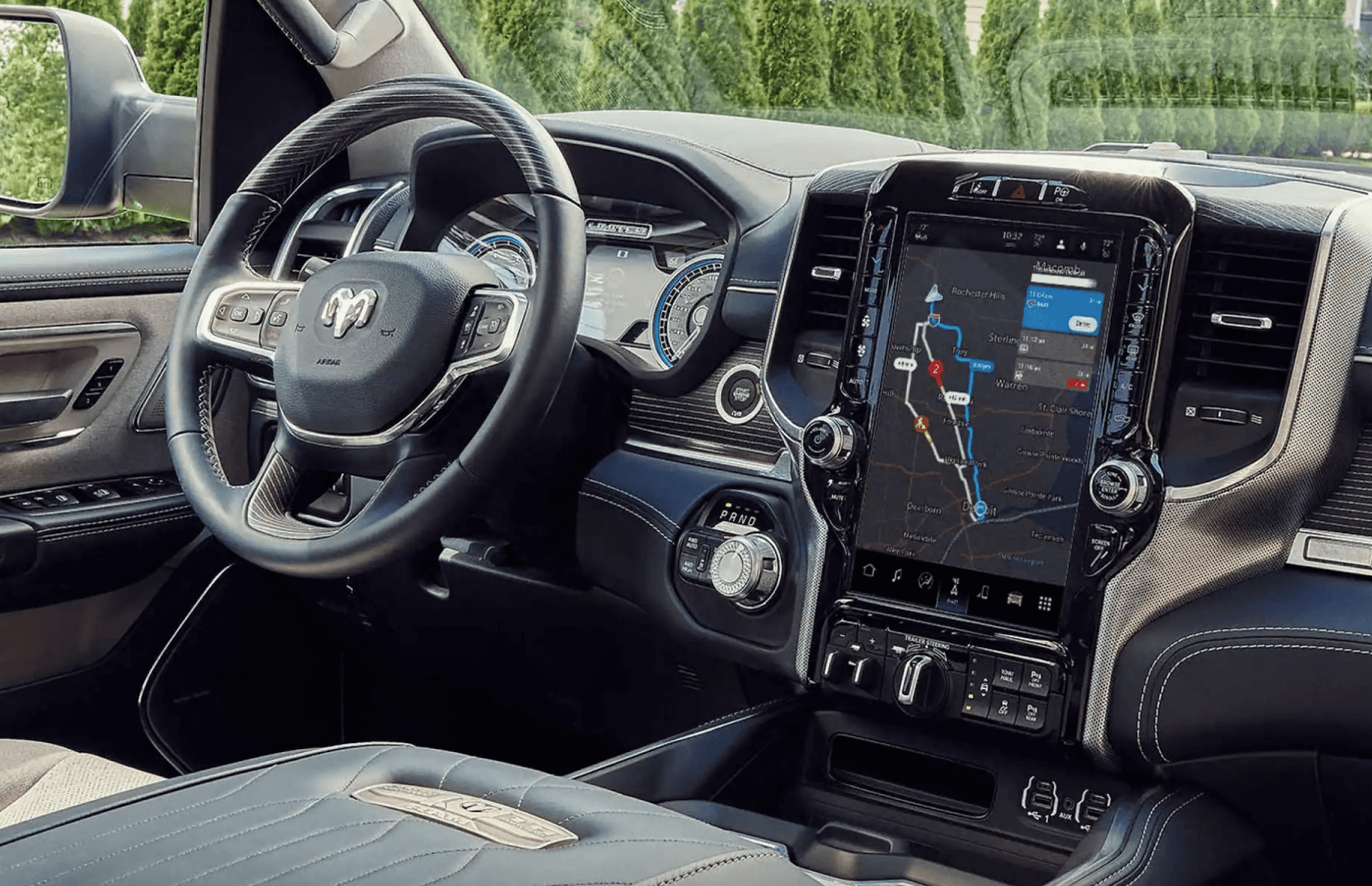 Safety and Security Is at the Top of the List
Of course, safety and security are critical when you get behind the wheel of a car, and the 2022 Ram 1500 comes with the latest safety features to make sure you, your passengers, and other drivers on the road are properly protected.
For example, you might be interested in the 360-degree Surround View Camera. You deserve to have a bird's-eye view of everything that is happening around your vehicle, and this camera will give you exactly that. When this is combined with the other safety features of the 2022 Ram 1500, it is easy to see why this is one of the safest vehicles on the market. At Sunland Park CDJR, we would be happy to go through the different packages with you.
Contact Sunland Park CDJR in El Paso, TX & Test Drive a 2022 Ram 1500 Today!
If you are ready to experience everything the 2022 Ram 1500 has to offer, rely on your partners at Sunland Park CDJR. We are proud to be one of the most trusted names in El Paso, Texas, and it would be our pleasure to let you test drive a 2022 Ram 1500. We are confident that once you feel the power of this truck, you will not want anything else!
Swing by our dealership to test drive a vehicle today, and contact us to speak with our team! We are always available to help you.