Best Trucks for Towing in El Paso, TX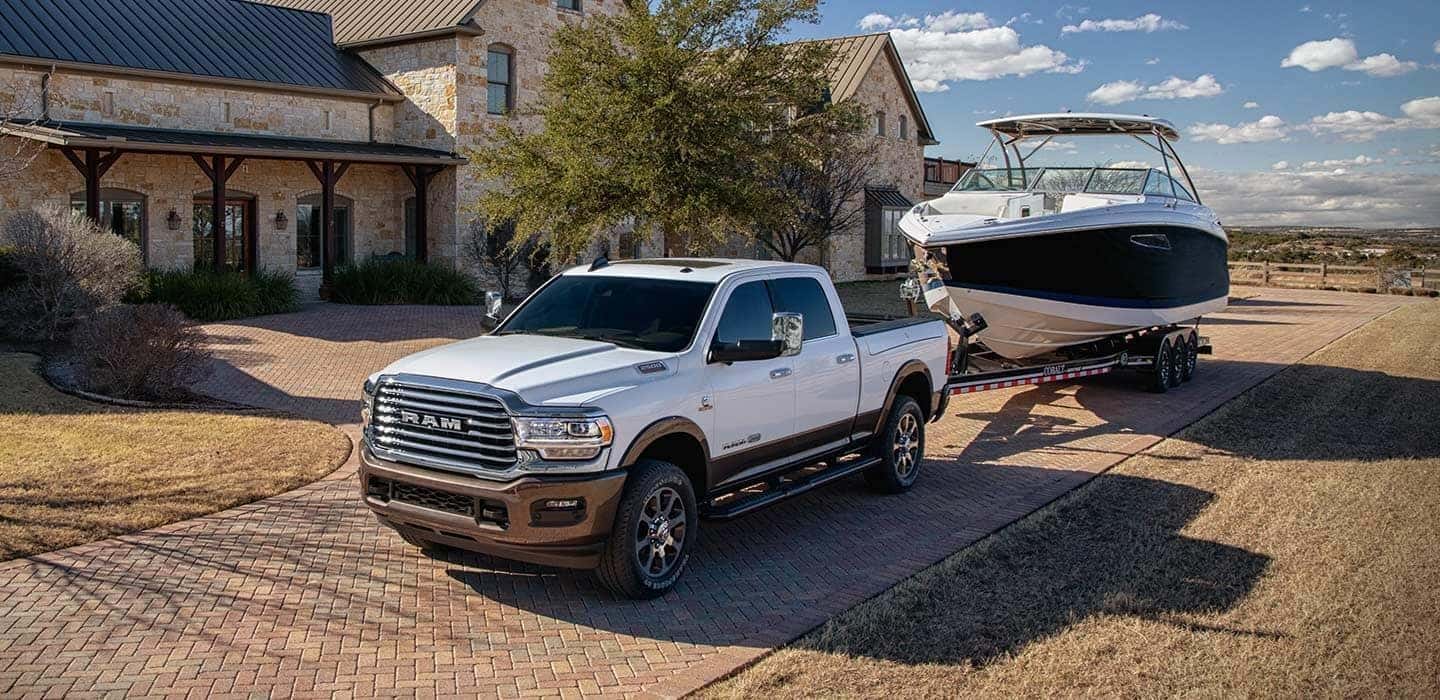 Whether you're shopping for a new Dodge Charger or a 2020 Jeep Gladiator in the El Paso, TX-area, we invite you to visit our convenient location to check out our new car inventory. When you arrive at our RAM dealership, you'll see that our extensive inventory includes several capable trucks like the 2020 RAM 1500, its larger brethren, and the Jeep Gladiator. Picking which truck is best for you may rest on how much each model can tow.
Towing Terms Explained
You don't need to ask yourself, "Is there a car dealer near me who can explain what some common towing terms mean as I'm shopping for a new truck?" Our team will be happy to answer any of your questions, and we'll gladly explain any of the following terms:
GAWR: If you're shopping for the best vehicles for towing, you'll need to know the definition of gross axle weight rating. GAWR is shorthand for the combined weight that every axle on an automobile is rated for.
GCWR: When you contact our El Paso, TX RAM dealership, we'll explain that gross combined weight rating, or GCWR, refers to the total vehicle and trailer weight for which a truck is rated.
GTWR: Gross trailer weight rating represents the total weight a trailer can handle and it accounts for the combined weight of the trailer as well as the cargo the trailer is hauling.
Payload: Payload refers to the amount of weight you can haul in the bed of your truck. If you're a fan of the Jeep Gladiator, you'll be happy to know that the truck's maximum payload rating is an impressive 1,700 pounds despite its bed only being five feet long.
Towing Capacity: Towing capacity is exactly what its name implies – it represents the amount of weight you can pull behind your vehicle. If you tow supplies for work or recreational purposes, you'll be glad to learn that the RAM 1500 has a tow rating between 6,250 – 12,750 pounds depending on its configuration.
RAM Models Great for Towing
As we mentioned above, the new RAM 1500 is a versatile, full-size pickup that can tow a huge amount of weight without breaking a sweat. While that's the case, some motorists need a truck that's capable of towing even more supplies. If you need a pickup that can tow more than the RAM 1500, you may want to consider the 2020 RAM 2500 or the latest RAM 3500.
For more information about the best vehicles for towing, contact or visit Sunland Park Chrysler Dodge Jeep RAM!