Check Out The All-New 2023 Jeep Wrangler 4XE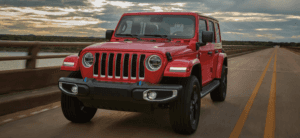 For those who love adventure but also want a vehicle that is environmentally conscious, the 2023 Wrangler 4XE is an excellent pick. Built to last and for just about all terrain with hybrid capabilities, the 2023 Wrangler 4XE is perfect for anyone who loves adventure and appreciates hybrid power technologies. To discover if the 2023 Wrangler 4XE is right for you, visit Sunland Park CDJR to learn more about the Wrangler and all of its features.
Legendary Electrified Capabilities
The 2023 Wrangler 4XE's electric capabilities are beyond impressive, with three e-Select modes and simplified charging solutions. When it comes to charging your 2023 Wrangler 4XE, it's possible to charge your Jeep with an included standard Level 1 charger, which ultimately requires 12 hours for a complete charge. However, it is also possible to upgrade to a Level II Jeep© Branded Charger for an expedited charge, only requiring 2 hours to completely charge a Wrangler 4XE battery.
Additional features that stand out with the 2023 Wrangler 4XE include:
Impressive power and performance: With 470 lb. ft.-of torque and 375 HP, or horsepower, this 2023 Wrangler can handle it all.
Rock-crawling capabilities: Due to its powerful engine and horsepower, the 2023 Wrangler has state-of-the-art rock-crawling capabilities.
Industry's First PHEV: The 2023 Jeep Wrangler 4XE is also the industry's very first PHEV that includes both Rear and Front Locking Differentials.
Go Farther: With a total estimated driving range of up to 370 miles in total and an estimated MPGE of 49 miles, the 2023 Wrangler 4XE is sure to impress against many others in its class.
Adventure with Confidence
Knowing you are safe and secure whenever you are venturing out into new terrain is essential, especially if you are exploring unknown territory. The 2023 Wrangler 4XE provides drivers with peace of mind anywhere you plan to go, with more than 75 standard and available safety features that can be used just about anywhere, even in the remote wilderness.
Blind Spot Monitoring and Rear Cross Path Detection: Keep an eye on your surroundings as well as what is behind you with automatic alerts whenever a pedestrian, obstacle, or vehicle is detected in your path.
Forward Collision Warning: Receive both visual and audible alerts whenever a forward collision has been detected or when you are at risk of a potential collision due to the actions of drivers in front of you.
Adaptive Cruise Control: Adaptive Cruise Control, or ACC, can help you maintain a proper speed limit while driving while also automatically adjusting your vehicle to ensure you are driving a safe distance from other drivers on the road.
Automatic High-Beam Headlamps: In difficult or dark weather, it can be challenging to see or fuss with your vehicle's headlamps. Automatic high-beam headlamps turn on automatically whenever it is detected that they are needed.
Wrangler's Forward-Thinking Technology
Not only does the 2023 Wrangler 4XE deliver when it comes to power, performance, reliability, and safety, but it also includes plenty of useful technologies to keep you connected at all times. Whether you are traveling in the wilderness or exploring remote terrain, the 2023 Wrangler 4XE has technologies for all.
4G LTE Wi-Fi Hotspot: Included with the 2023 Wrangler 4XE is a built-in 4G LTE Wi-Fi hotspot, allowing the connection of up to 8 devices in total. The hotspot has a 50-foot radius, making it perfect for use while camping, fishing, or spending time near your vehicle whenever you are outdoors. 
Uconnect© System: Enjoy the Jeep Uconnect© system with a built-in 8.4″ touchscreen to manage GPS directions and coordinates using voice commands.
Co-Pilot Touchscreen: Passengers in your 2023 Wrangler 4XE can also access their own 8.4″ touchscreen to manage GPS directions, entertainment, and cameras with just the touch of a button.
Forward-Facing Off-Road Camera: Monitor upcoming potential obstacles on the road using your touchscreen.
Ask Alexa: Use the Jeep© Skill from Amazon Alexa to implement Alexa into your 2023 Wrangler 4XE. Using Alexa in your 2023 Wrangler 4XE helps streamline the process of sending GPS directions or managing fuel levels remotely and from just about anywhere.
Are you ready to move forward with electric hybrid power with your next vehicle? If so, the 2023 Wrangler 4XE might be just what you need. To compare features of the 2023 Wrangler and to schedule a test drive, stop in at Sunland Park CDJR for more information today.